5 Ways to Help Your Kids Learn Healthy Habits
5 Ways to Help Your Kids Learn Healthy Habits
We all know that our kids learn their habits and behaviors for us, so it's important that we also model good, healthy ways of eating and keeping active to them. Lead by example and get them involved in the process to teach them  the importance of healthy living.
1. Exercise In Front of Your Kids and With Your Kids
Let you kids see you working out and putting in the effort. They will model your behavior and probably try to join in without you even asking them too. Also, spend time with them doing fun, active things like going for a hike, playing tag or kicking a ball back and forth. You can also encourage them to join recreation sports teams if they are available in your area.
2. Bring Your Kids to the Grocery Store
Healthy eating starts with the food you buy. Even before that, get them involved in meal planning. Let them choose a meal at least once a week. This will give you the opportunity to talk with them about choosing healthy foods and also how you can make their favorite foods healthier. I mean come on, what kid doesn't like pizza?! This is the perfect time to talk about adding more vegetables to their favorite pizza.
3. Cook with Your Kids
I consider cooking one of the essential survival skills that kids need to learn for the real world. Why not start their love of cooking early by getting them involved in the process. Teach your 3-4 year old how to use measuring cups and spoons or let him sprinkle on spices. Let your 8 year old cut up vegetables (with supervision) or make cookies or patties. For a list of age appropriate activities for your kids, click here.
4. Pack Healthy Lunches and Snacks
Healthy food helps kids perform their best in school and on the playground! That's why Autumn, from the 21 Day Fix, packs healthy lunches for her son. Here's an example of one of those featuring a sandwich made with all-natural organic turkey, provolone cheese, and mustard on Ezekiel toast, mixed organic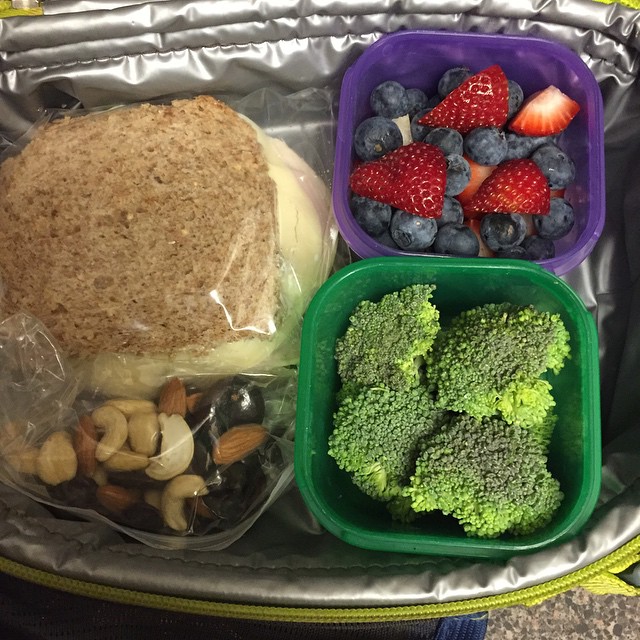 berries, broccoli (with an orange container of ranch dressing, not pictured), and mixed almonds and cashews with coconut pieces covered in dark chocolate.
Note: Colorful 21 Day Fix containers are a convenient way to pack children's lunches, but kids should not follow the meal plan or portion sizes.
5. Make Holidays Healthy
Thanksgiving, Christmas and birthdays don't have to always be only about the desserts. Try some new recipes or remake your old family favorites in a healthier version. There are tons of recipes out there that can give you the same flavors, but can cut the fat and calories.
---
---